Seit ein paar Wochen gibt es im L'Oréal Sortiment neue Lipglosse, die ich mir natürlich näher anschauen musste. Natürlich habe ich mir einen knalligen Farbton ausgesucht und den Farbton The bigger the better mitgenommen.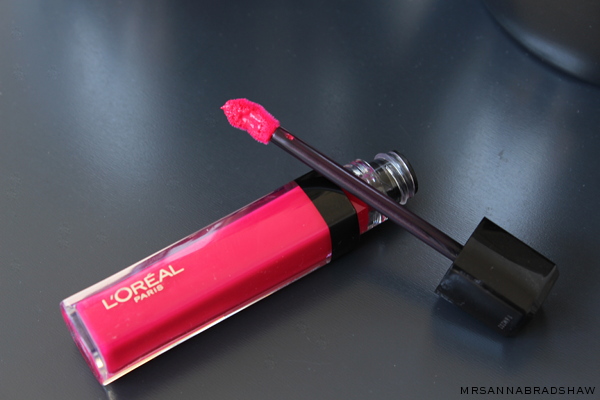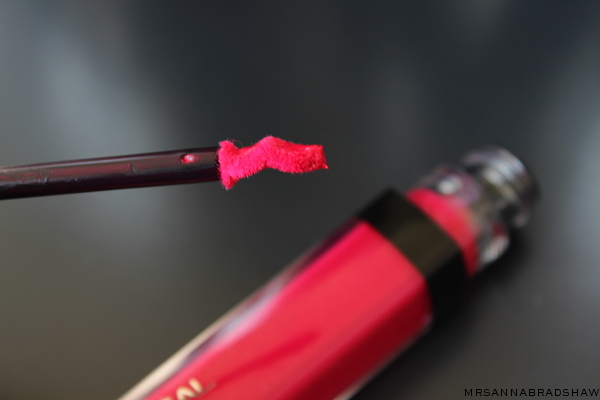 The Bigger the Better ist ein sehr intensives pinkstichiges Rot. Das Finish wird als matt beschrieben, wobei ich hier eher auf ein semi-matt Finish gehen würde. Der Gloss ist für einen Gloss eher etwas fester, behält aber zu jeder Zeit seinen Glosscharakter und bleibt glänzend auf den Lippen, allerdings trocknet er nach etwa 10 Minuten fester an, ist für mich aber trotzdem nicht matt.
Dadurch, dass der Gloss in seiner Konsistenz recht "schwer" ist, bleibt er immer beweglich auf den Lippen. Zwar liegt die Haltbarkeit ohne Nahrungsaufnahme bei guten 4 Stunden aber ein Getränk oder aber eine Mahlzeit überlebt er nicht. Dafür hinterlässt der Gloss einen ordentlichen Stain auf den Lippen, der sich nur schwer entfernen lässt.
Überzeugend ist definitiv die Pigmentierung, die wirklich bombastisch ist. Der Lipgloss ist im Auftrag sofort deckend und man kann in einem Zug die Lippen gleichmäßig ausfüllen , was sicher auch an dem speziell geformten Lipglossapplikator liegt. Der Applikator passt sich so super an die Lippenform an und ermöglicht einen gleichmäßigen Auftrag.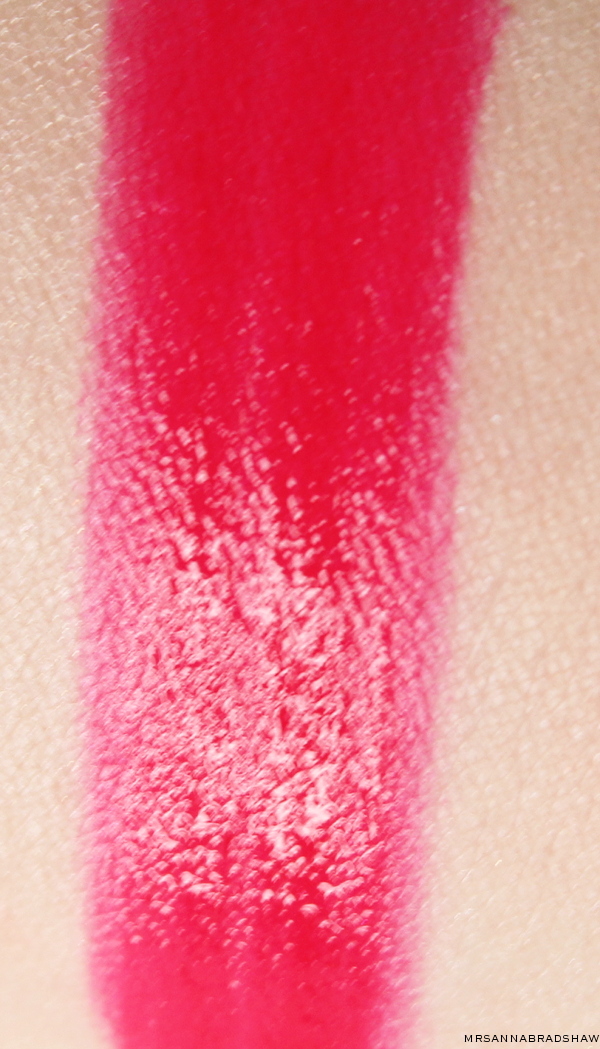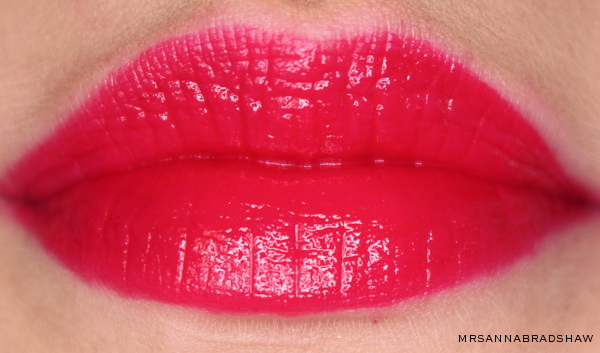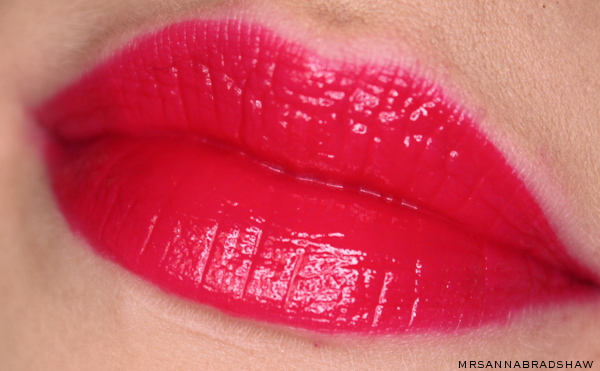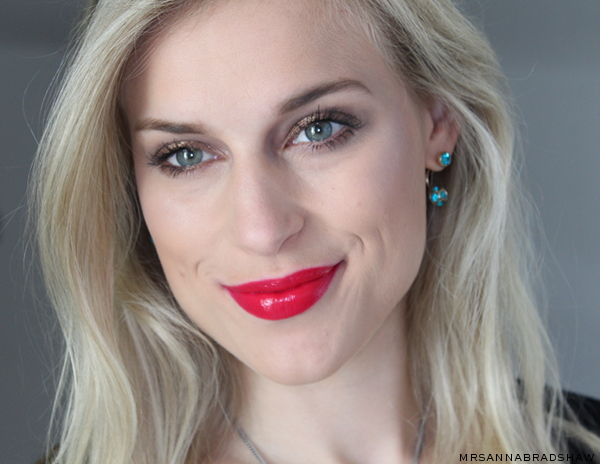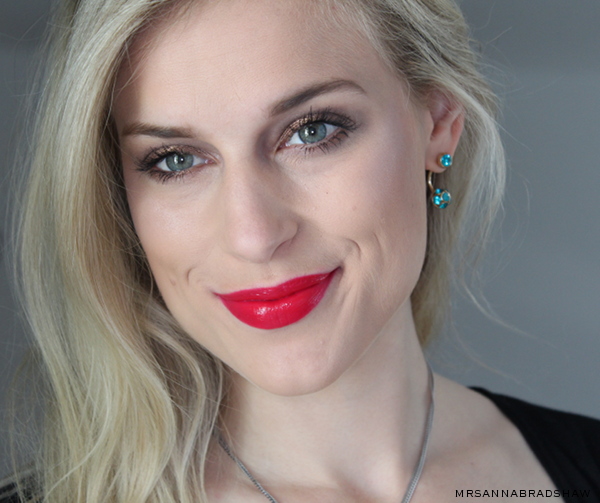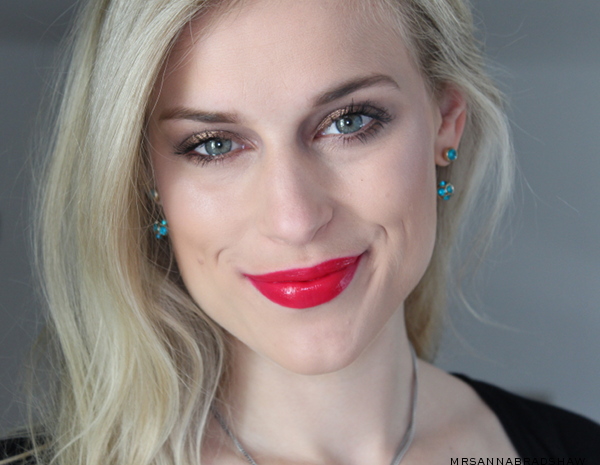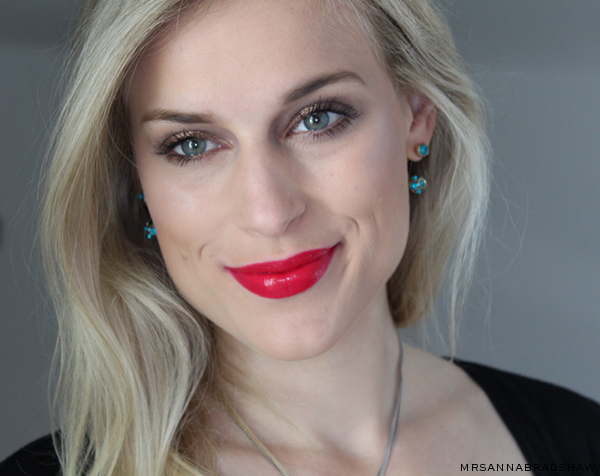 Der Farbton ist super, die Pigmentierung ist super, ich würde den Lipgloss nur nicht unbedingt als matt bezeichnen, da er das einfach nicht ist und ich muss auch gestehen, dass ich langanhaltendere Lipglosse besitze als ihn.
Wer auf knallige Farben und Glosse mit intensiver Pigmentierung steht, dem kann ich diesen Lipgloss nur empfehlen, diejenigen die einen langanhaltenden Lipgloss suchen, werden aber hier wohl eher enttäuscht sein.